Another Vintage Guitar Myth Exposed - Slash's Replica that Saved Gibson
The 80's were a dismal time for both Fender and Gibson. I can remember seeing many a Les Paul having birthdays on the shop wall at bargain prices. The Charvels, ESP's etc were flying out the door. Then Slash came along. A world class player with great tone. His vintage Les Paul styling turned heads in pop rock and Gibson sales soared with a vengeance. Slash's number one however is not a Gibson - its a fine crafted replica. Below is the actual printed article with the text blown up. Read for yourself.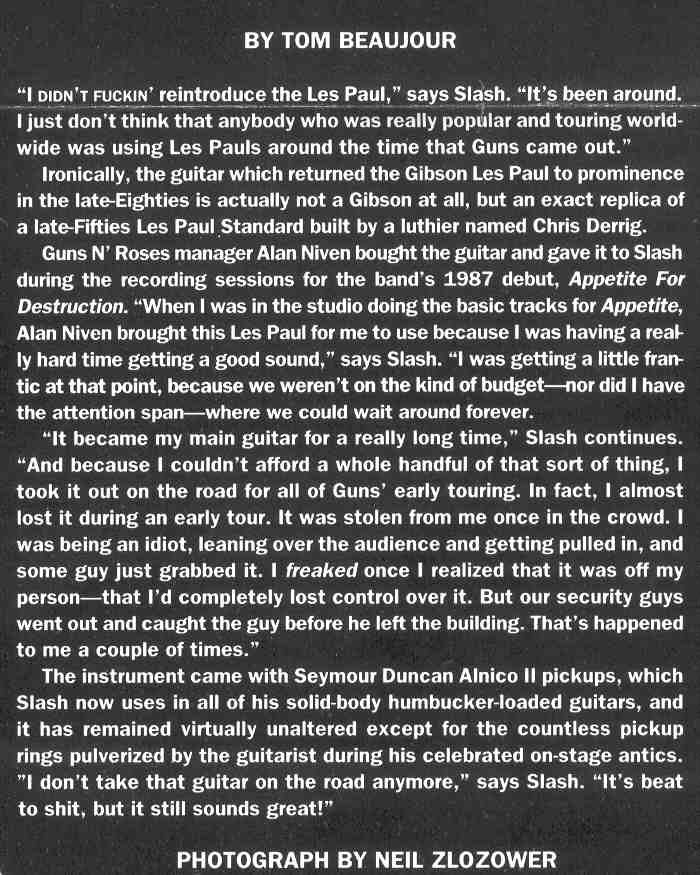 Fender®, Strat®, Stratocaster®, Relic®, Tele®, and Telecaster® are registered trademarks of Fender Musical Instruments Corp. Lashing Guitars is in no way affiliated with FMIC and no Fender® warranty applies. Some headstock designs are trademarked by Fender Musical Instruments Corp. All necks available at Lashing Guitars using these headstock designs are licensed by Fender®. Some guitars may incorporate genuine Fender parts and therefore labels/branding may appear. Whatever the circumstances no Fender Warranty or affiliation applies. Not affiliated with Gibson either.

00
00000000000000000000000000000000000000000000000000000000000000000000000000000000000000000000000000000000000000000000000000000000